The number one priority for Brisbane Airport is transferring you safely and securely to your final destination. 
Brisbane Airport follows strict regulations specified by the Australian Government to ensure the safety and security of all Brisbane Airport guests. We have a few tips, which will help you get on your way faster and make the screening and security process more efficient. 
Everything you need to know about screening
The Australian Government specifies that everyone (passengers, aircrew and airport workers) must go through a security screening point at the Domestic and International Terminal before boarding a flight or moving into secure areas within the Terminal.  At Brisbane Airport, screening takes a few formats:
Belongings screening
Passenger screening
Explosive Trace Detection
Belongings screening
All items you plan to carry onto the plane or take into the secure areas within the Terminals will be x-rayed.
To make this process faster for everyone we recommend:
Removing and disposing of any prohibited or dangerous goods before arriving at the screening station. You can read the full list of prohibited items on the TravelSECURE Website.
Placing valuables such as your phone, wallet, passport, jewellery and camera in your carry-on bag prior to arriving at the screening point to minimise risk of leaving anything behind.
Removing electronic equipment like laptops and tablets from your luggage and placing them on a tray.
For domestic flights (only), taking umbrellas and aerosols out of your hand luggage to be scanned separately to your carry-on luggage.
For international flights (only), placing liquids, aerosols and gels into a clear snap lock bag for scanning and presenting powders separately. Find more information on powders, liquids aerosols and gels.
Advise staff of any medical conditions that might set off the detector e.g. metal pins. Find more information about travelling with special requirements.
Remove your shoes or belt if you think there could be a metal arch or steel cap that would set the detector off.
Follow the instructions of all airport staff through this screening process. 
What happens to items that are surrendered?
If you're found to be carrying any dangerous, prohibited goods or liquids, aerosols and gels over the restricted amount, these will need to be surrendered before you can proceed to the secure area of the Terminal. No items will be kept, returned or on-forwarded to you.
Passenger screening
For both domestic and international flights, you and your belongings will be screened at the passenger screening area. 
If the detector alarms, don't panic. It could just be your shoes, belt, or a few coins you forgot to take out of your pockets. 
Not all screening machines are the same, so you may be asked to take off pieces of clothing that you know haven't triggered an alert before.  
If the detector continues to alarm, you'll be subject to further physical screening before being cleared for travel. Additional physical screening can take place using a hand-held metal detector or pat down. 
Read more about the screening methods employed by Australian Airports. 
What if I don't want to be subject to physical screening? 
Brisbane Airport recognises that for religious or personal reasons, some passengers may not wish to undergo these screening processes in public. At any time a passenger can request that this further screening be undertaken in a private room.
Read more about travelling with specific needs.
Body scanners
Process for using body scanners
If you are using a body scanner you will be asked to remove outer layers of clothing (like jackets and jumpers), belts, and take all items out of your pockets.
You then stand inside the body scanner, where millimetre-wave technology will detect items worn or carried on the body.
Be sure to inform screening officers if you have any medical devices, aids or implants before being screened.
Alternative screening will be provided for those passengers who are medically or physically unable to undergo a body scan. 
Body Scanners and your privacy
Body scanners used in Australia display a generic outline of a person with no identifying features. 
As pictured below, they highlight areas that may need further investigation.
Body scanners cannot store or transmit any personal or identifying information.
For more information about the passenger screening process and the use of body scanners at Australian Airports, visit the Department of Home Affairs TravelSECURE website.
Passengers with specific needs
Brisbane Airport will accommodate passengers with specific needs through this screening process.
Passengers with special requirements are advised to make preparations prior to commencing the security and screening process, by alerting airport staff to their specific requirements. 
Below are some examples that may prove helpful in this preparation. 
 
Medical implants - Passengers are to advise the screening officer of their condition and request separate screening to avoid passing through any machines that may affect implants e.g. pacemakers, cochlear implants.
Artificial limbs/prosthesis - Passengers are to advise the screening officer of their condition and request separate screening to avoid passing through a metal detector.
Walking aids - Walking aids must be screened and as such may require X-Ray or Explosive Trace Detection. Screening points have chairs and walking aids available for you during this process.
Wheelchairs - Airline staff will assist with taking passengers directly to the screening point where they will be required to undergo screening by way of a pat-down search by a security officer of the same gender.
Assistance animals - Assistance animals will also need to be screened. This will involve a pat-down and /or use of wand on the animal, their lead, collar and harness. 
For more information about screening processes for travellers with specific needs visit the Department of Home Affairs TravelSECURE website.
Explosive Trace Detection
Explosive Trace Detection machines operate at random in Brisbane Airport. If you are selected for an Explosive Trace Detection test, you, your carry-on bags and your clothing will be swabbed for analysis. The process should take about 30 seconds and then you'll be on your way. Brisbane Airport's screening officers select passengers randomly on a continuous basis to undergo explosive trace detection. Please follow the instructions of the security officers at all times. 
Read more about the screening methods employed by Australian Airports. 
Travelling with Children
Brisbane Airport is a child-friendly environment and our staff try to accommodate families as much as possible, particularly through the security screening process.
It is a requirement by law that babies and infants go through similar screening to adults.
Babies can be carried by an adult or, if they can walk, they should walk through the screening point on their own. 
Strollers and prams must be screened along with other carry-on baggage. Many airlines do not allow these items in the cabin due to space and stowage constraints. If you are unsure about your carry-on requirements, check with your airline before you travel.
On domestic flights, there is no limit to the volume of powders, liquids, aerosols or gels that you can take on board in your carry-on baggage.
For international flights, you are able to carry on board a reasonable quantity of inorganic powder, liquid, aerosol or gel items for a baby or infant. Pack only what you need for the duration of your flight and any delays that may occur. There are no quantity restrictions for organic powders such as powdered baby formula.
For more information about travelling with children and what is considered a reasonable quantity of inorganic powders, liquids, aerosols or gels, click here.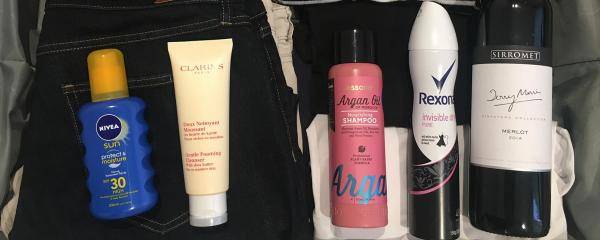 Packing tips for powders, liquids, aerosols and gels for international flights.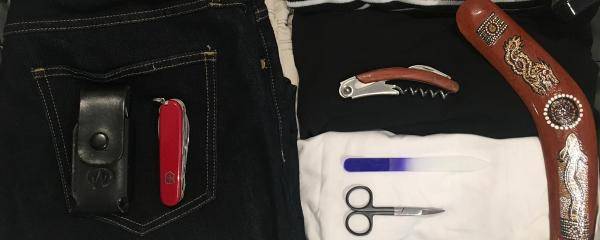 Review the guidelines for prohibited and dangerous goods.