The ID and Access Centre issues Aviation Security Identification Cards (ASIC) and Access Cards to the employees of companies who provide services at Brisbane Airport.  
What is an ASIC?
Anyone that works at Brisbane Airport that has an operational need for unescorted access through security sensitive areas of the airport must have an ASIC. This is a requirement of Australian Aviation Legislation. ASIC cardholders undergo an extensive background check to ensure their suitability to operate in secure areas of the airport.
Which ASIC do I require?
An ASIC can be either red or grey.
A red ASIC is issued to airport staff who require access to the airside area or airside security zone. 
A grey ASIC is issued to staff working in the departures or arrivals areas of the Terminals, for example a retailer.
ID and Access Centre location 
9 The Circuit, Brisbane Airport (adjacent to Skygate)
Hours of Operation
Mon, Tues, Wed and Fri: 07:30am - 03.45pm
Thurs: 07:30am - 1:45pm
Sat and Sun: closed
Public Holidays: closed
Existing appointments for outside of these hours will be honoured. 
Email: @email
Tel: +61 7 3406 3057
 
How do I apply for an ASIC?
An ASIC application form can be downloaded below. Alternatively a hard copy can be collected from the following locations:
ID and Access Centre - 9 The Circuit, Brisbane Airport
Domestic Terminal - BAC Office Reception (Level 2)
International Terminal - BAC Office Reception (Level 3)
Identification requirements
When applying for an ASIC, you are required to verify your identify.  Whilst clear photocopies of your documentation will be accepted when submitting your application, you will have to present the original documents in person when you collect your ASIC. Details of the documentation identification categories can be found here.
ASIC application form
Download and complete the ASIC Application form
Submitting an application
Your ASIC application must be certified by your company's authorised signatory registered with Brisbane Airport Corporation.  If your company is new to this process, ask them to refer to the company information further down this page. 
There are two options for submitting an application:
Bring your completed application, along with photocopies of the required documentation in person to the ID and Access Centre OR
Mail your completed application along with photocopies of the required documentation to:
BAC ID & Access Centre
PO Box 61
Hamilton Central QLD 4007
Important note: Please be sure to print and provide all pages of your application form when you submit your documents.  If your application has missing or incompleted pages, you will need to resubmit.
How long does it take to process an ASIC application?
Once you have submitted your application, it can take between two (2) and six (6) weeks for your application to be processed and all background checks completed by AusCheck.   
ASIC applications and renewals require AusCheck to undertake the following background checks:
A security assessment by the Australian Security Intelligence Organisation
A criminal history check by the Australian Criminal Intelligence Commission
An immigration check (if required) by the Department of Immigration and Border Protection, to confirm an applicant's right to work in Australia.
For more information about AusCheck visit the Home Affairs website.
How do I collect my ASIC?
Once your ASIC is ready for collection, your company will be notified by email.  You will then need to visit the ID and Access Centre in person to collect your ASIC.  ASICs cannot be issued to another person on your behalf.
In order to collect your ASIC, you will be required to bring with you the original versions of your identification documentation that you submitted as part of your ASIC application.  The ID and Access Centre staff cannot issue an ASIC if they have not sighted and verified original identification documents.
When collecting your ASIC, you will be required to sit a short multiple choice questionnaire and to have a photograph taken for your new ASIC.
ASIC Fees
| | |
| --- | --- |
|   | Fees |
| New ASIC  Application | $220 |
| ASIC Renewal | $220 |
| Under 18 years ASIC Application | $100 |
| Replacement (Change of Company, Upgrade, Lost or Stolen) | $100 |
Payments
Fees must be paid at the time of submitting the application.  Applications will not be processed unless application fees have been received.
Payments will be accepted via credit card or EFTPOS. Please note; we are not able to accept payment over the phone.
FAQ's
Didn't find the answer you were looking for in the information above?  Here's some additional information that might assist.
Q. I have lost my ASIC - what do I do?
A lost ASIC should be reported immediately.  Phone the ID and Access Centre on +61 7 3406 3057 or the BAC Airport Duty Manager on +61 7 3406 3171 if it is outside office hours.
Q. My ASIC has been stolen - what do I do?
Stolen ASICs must be reported to the Queensland Police and the ID and Access Centre. A statutory declaration stating the crime report number and what has occurred must be submitted to ID and Access Centre.
Q. I have just been given a job at Brisbane Airport  - how do I get an ASIC?
Congratulations! Your new employer will guide you through the application process.
Q. What do I do if I can't remember where I have lived in the past 10 years?
You must complete that section of the application form to the best of your knowledge.
Q. My identification documents are in my home country's language, are these acceptable?
Documents that are not in English must be accompanied by an original, professional translation.  Brisbane Airport Corporation recommends using  translators accredited by the National Accreditation Authority for Translators and Interpreters (NAATI). For information on accredited Translators, visit the NAATI website.
Q. My work colleagues already have their ASIC and mine was submitted at the same time – why don't I have mine?
All ASIC applications are assessed by AusCheck on an individual basis and the timeframe can vary.
Q. I don't speak/read English can someone help me with the multiple choice test?
Yes, you may bring someone that can translate for you.
Q. I am dyslexic can someone help me with the multiple choice test?
Yes, you may bring a support person to assist you.
Q. I have lost my receipt – are you able to provide me with a copy?
 Copies of receipts are not currently available.
Q. I have a grey ASIC - how do I get a red ASIC?
Complete a new ASIC application in full and your company must also supply a letter stating what the operational need is to be upgraded to a red ASIC.
Q. I have a BNE ASIC but now I need an AUS ASIC?
Your company will need to submit a letter via email advising the operational need for an AUS ASIC. This must include the ports that will be visited, the frequency of visits and in what capacity you will be working there. There is no need to complete an ASIC application form if you already hold a current BNE ASIC.
Q. My personal or contact details have changed – what do I do?
To update details such as your address or other contact details, please send an email with your details and we'll update them for you.
Q. I am changing companies how do I get my ASIC updated?
Complete a new ASIC application in full and tick 'change of company' on the front page of the form. Once your new employer has endorsed the form, your application can be submitted for processing and a new ASIC issued.
Q. How do I get car park access on my ASIC?
Please contact the Ground Transport Office during business hours on +61 7 3406 3197. Read more information on staff parking.
Q. I just received my Authority to Drive Airside (ADA) but now I can't get in the gate?
Please have the authorised signatory from your company email requesting the access you require, stating the operational need, ADA number and ADA expiry date. For more information on ADA's visit the Airside Driving Centre.
Q. I work for QANTAS - where do I pick up my ASIC?
Qantas ASICS are distributed by the Qantas Domestic Terminal Security Office – Phone +61 7 3867 3397.
Q. I have just picked up my ASIC, but it won't open the door it is supposed to – what do I do?
Review the information about Access Cards.
Q. I'm on a bridging VISA can I get an ASIC?
Yes you can.
Q. What documentation do I need to provide regarding my VISA?
A copy of your Visa/Immigration documents is required to be provided with your application, along with a Visa Entitlement Verification (VEVO) check.  The VEVO check should be completed prior to submitting your application and emailed directly from the online portal to [email protected].  ASIC applications cannot be accepted if the VEVO check has not first been received by the ID and Access Centre.
Q. What happens when my VISA expires?
Please send us an email your new VISA and we will contact you when the updated ASIC is ready.
Information for companies
Companies working on Airport whose staff have an operational need to access restricted or secure areas of the Airport can apply to authorise ASIC application forms for your staff.
As a new company you are required to submit the following documentation to be registered for ASIC authorisations:
Letter of introduction
A letter of introduction from the company or business on whose behalf you are conducting work. This document needs to:
Be on their company letterhead
Introduce your business and confirm the operational need for your staff to be issued with ASICs
Include the name, title and contact details (including telephone and email address) of the person introducing you
A sample introduction letter can be downloaded here.
Authority to Sign for ASICs
This document provides Brisbane Airport Corporation with the name and speciman signature for an authorised representative of your company to certify ASIC applications for staff with an operational need.  This document needs to:
Be on your company letterhead
Include the full name and title of the authorised person
Include the signature of the authorised person
Include the email address and direct contact number of the authorised person
A sample authority can be downloaded here.
ASIC Application Fees
Application fees must be made at the time an applicant lodges their application.  Payments can be made with cash, credit card or EFTPOS.
Payments cannot be made over the phone or email, however a letter of authority to deduct payment will be accepted.  A letter of authority should be:
On company letterhead
Include the cardholder details (name, card type, card number, expiry)
Amount authorised to be deducted
Name of ASIC Applicant
A sample Authority to Deduct Payment can be downloaded here.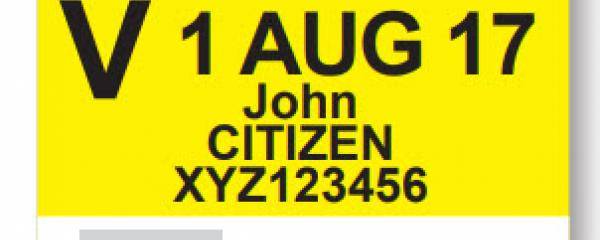 Information on gaining a Visitor Pass to access secure or controlled areas.